Finally ladies and gentlemen~ I choose my ichiban(s)! *throw confetti*
And that lucky guy(s) is:

and~
see? I'm greedy~ xD
I love them for being awesome.
Ohno-kun, our not-so-Riida, who's never making an effort as a leader :D but still, so cute as ever, with his chubby cheek.
Though he is 31 already, he act as 13. Love his awesomely angelic voice. Love the way he does his own things. And I absolutely love his sexy dance movements *u*

Sakurai-kun, our NewsCaster, Mr. Candle Sho, beside being an idol, he is still determined to continue his education *that's a lot of charm for me* Love his bakaness *all of them* xD Even though he is the smartest, yet he could act as the most clumsy and baka. He always can make me smile.
I don't know what else to say~ They're so cute, so awesome, and not to mention have superb awesome teammates~
It's not like I didn't love Nino, Aiba and Matsujun. They are awesome in their own way, they complete each other. Without one of them, Arashi won't be Arashi. Arashi won't be the storm who's bringing happiness in my life. Arashi is Happiness!

I'm sharing a few gif I made from some videos. credits goes to the uploader and subber :D


this 31 years old man is so cute <3 where else you can find an old man this cute? xD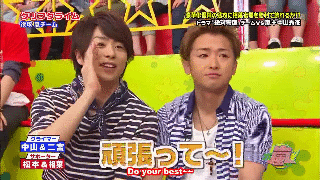 they look like wives cheering their husband, in this case, Ninomiya Kazunari and Nakayama Hideyuki (?)
I prefer Aiba-chan though >.<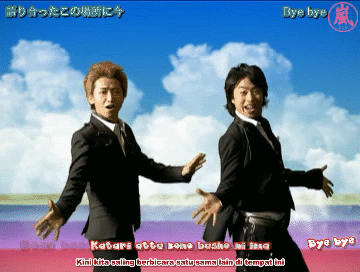 The proof of their bakaness xD

There my beloved Ichiban(s) <3
For the pictures, credits goes to the uploader~ I found it on Google by the way :D
Yoroshiku onegaishimasu~